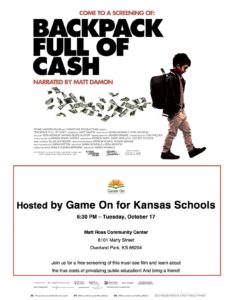 Nationwide, public schools are under attack. The game plan includes:
-undermining confidence in public education
-underfunding public schools
-diverting funds to charter schools, vouchers, and tax credit scholarships.
In Kansas, we've been defending against the privatization movement for years.
As a service to our community, we are hosting a FREE screening of the award-winning film: BACKPACK FULL OF CASH, narrated by Matt Damon, on TUESDAY, OCTOBER 17 at 6:30. We'll have a short panel discussion after the screening.
Backpack Full of Cash is a timely, concise explanation of what's at stake in Kansas and across the country. It's a great opportunity to educate those in our community who care about our public schools but haven't seen what the privatization movement is all about.
Join us and bring a friend!