Get Involved
Kansas children need you to get off the sidelines and participate in this process! Learn about what's going on in your neighborhood school. Find information on the issues beyond the sound bites and talking points. Join the fight for Kansas Public schools today.
Like us on Facebook and follow us on Twitter
Stay up to date and participate in the conversation: https://www.facebook.com/gameonforksschools, @GameOnKansas
Talk to your friends and neighbors
Share your knowledge and encourage them to get involved. This grassroots effort requires all of us to join in and make our voices heard.
Get in touch with your legislators
If their views and votes don't match up with your views, tell them.  They are in Topeka to represent you. Even if they do support education, they need to hear from you, too.  They also need to know they are doing what their constituents want.  And thank them.  Being a pro-education legislator isn't easy these days.  You can find links and contact information for legislators on our Links page.
Write a letter to the editor
We've seen a lot of coverage in the press about outraged legislators.  We need our legislators and our neighbors who don't have kids in the school system to see that we are concerned and that we think our legislators should spend less time trying to amend the constitution and more time trying to figure out how to best provide the children of Kansas with an education that will allow them to reach their potentials and contribute to a global economy.
Get involved with Game On
The Game On leadership group is also looking for more people to join us.  Most of us are busy parents and having more people at our table will help us be more effective.  Email us at gameonforpubliceducation@gmail.com to join us or to share your concerns.
Those of you who are parents would do anything for your kids.  Please take some time to make a phone call, send a letter or an email, and protect Kansas public schools.
Donate to Game On
We have no paid staff and we do not donate to political campaigns, but we do incur some expenses in our efforts to educate Kansans and advocate for public education. We now have a site for donations to our cause using PayPal. We are a 501(c)(4) so contributions are not tax deductible. Please use this link to contribute. https://pledgie.com/campaigns/28684
Purchase a T-Shirt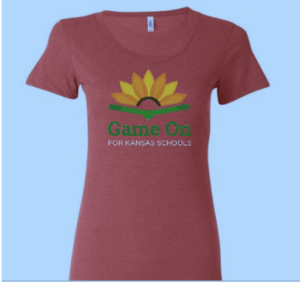 Our shirts are super-soft! Email us at gameonforpubliceducation@gmail.com with your style (men's or women's) and size (they run a bit small,  particularly the ladies cut-you may wish to order up one or even two sizes) and your address and submit payment of $20 here: https://pledgie.com/campaigns/28684.